Let the Wanderlust Intensify…
Hi, Hey, Hello!
It is that time of year again where people fly off to sunnier climes (although as I write this there has been warmth, sun and perfect blue skies here in good ol' England) to be touristy or to exist solely by a pool or on a beach with the gentle sound of the waves licking the shore in the background. I am however doing neither (the perils of being broke, unemployed and having a best friend who finishes this year at uni super late) but I am existing in a world where I keep imagining all the holidays I could be on and dreaming about waves crashing in a frothy white.
And I'm also going to comprise a list of all the places I want to travel to make every thing a bit worse for me. Hence the title of this post. This lists includes places that I both want to be a tourist in and and places that I want to disconnect from the world with the sand in between my toes, a good book and no guilt at doing nothing in the sun. I also roped in the help of my best friend (R), so this is our combined list.
1) Amsterdam
A dual desire to travel here for no outstanding reason other than the fact that it seems like a MUST for the both of us to go to go Amsterdam. Plus in any picture I have ever seen of it it looks stunning and when you live under 90 minutes away by plane it would be rude not to go…eventually.
2) Italy
Again, a dual desire to travel all around Italy. R stressed Florence in particular where my desire lies in Venice. However Rome and Milan can't be ignored. So yeah, travelling everrryywheereee is necessary. Plus food and architecture. And food. Just Italy, it needs to be done. Preferably soon.
3) Norway
I am saying Norway because when I asked R give me a list she said 'somewhere with a fjord' which lines up with the fact that I want to go to Norway. Two birds, one stone. And also because I can't tell you the amount of times we have talked about the most random parts of Norse mythology over the course of our friendship, in fact after I said Norway we had a whole new conversation about it. It would almost be an injustice to not go at some point.
4) California
I need (want) to go to LA like you wouldn't even believe for reasons I can't quite understand, but there you go. But there are other places in California that we both want to go to and so one day we will make the trip back across the Atlantic.
5) Sydney
Fun fact: This chick borderline hates flying and it's not even the flying itself it's the discomfort that comes with it because I somehow always end up behind someone who tries to recline their seat back alllll the way and I am both blessed and cursed with long legs. Anyway, I am willing to make the long trek across to Australia because it has always been on the list and I'm dragging R along with me.
6) Bahamas
So the second half of this least pretty much consists of pictures of beaches and it was a nightmare putting it together because if there is one thing that I want almost constantly right now it's to be on a beach near the sea. Bahamas, shared destination, very much needed (again, wanted).
7) Bermuda
I have never even thought about going to Bermuda, this destination is solely courtesy of R. And honestly who wouldn't want to go to a place that looks this beautiful.
8) Fiji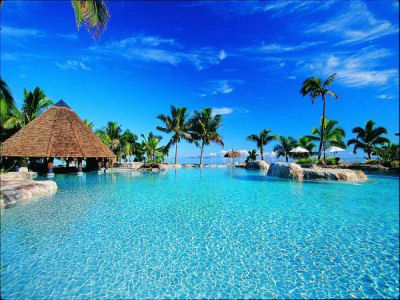 You know what I discovered putting this post together? Fiji has an underwater hotel and I can't figure out if I love or hate that idea…veering towards love (R thinks it's a good idea). On a different note, I forgot that Fiji was ever a place I wanted to go until R brought it up in her list. So here it is, looking stunning and make me sad.
9) Hawaii
I spend a lot of time passively watching Hawaii 5-0 with my parents and I can't really tell you what the hell is going on in the show (there was an almost wedding in the last episode I 'watched'…I think) but I can tell you the location is hella pretty. So I 'finish' every episode with this burning desire to be in Hawaii in any way possible. That happens at least once a week when that show is on so I am very grateful for the hiatus so it becomes more of a passive desire (until I decide to do something stupid like compile a list of places I want to travel to…).
10) DisneyWorld
Okay, so I have to end on this because it is the ultimate dream. For the both us, because we are both Disney kids (there are also Diagon Alley related purposes for us to go back to Orlando). Last year we were so close yet so far from this place and all it's wonders. And therefore, we have to go back.
On that note, the list is done. It is by no means extensive (there is a LOT of places that I (and R) want to travel to ie. the majority of Europe, but that's for another list) but it's a list. One that only made the wanderlust intensify (this was actually one of the easiest titles I have ever come up with in the year that I have been doing this blogging thing consistently, for someone who likes to think they are good with words, titles will continue to allude me) and was also quite fun to put together (once I stopped staring longingly at pictures of beaches). Hope you enjoyed it!
Parentheses count: 14. See you on Wednesday!
(All images are from good old Google, although one day I might have a collection of photos from these places of my own.)
---